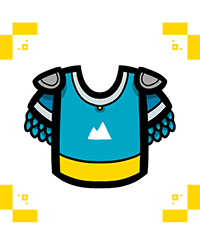 The most simple inventory solution for Unity
This page contains a complete history of all releases of the Infinite Runner Engine, as well as an overview of what's coming next.
Releases history
1.3

The Border

April 2019

🐛 Fixes a bug that would cause inventory slots to not refresh properly when moving to the same slot
🛠 Requires Unity 2018.3.8 or more

1.2

The Architect

January 2019

🚀 Most Items methods (Use, Equip, Drop, Unequip, Pick) are now bool functions, allowing you to extend them to add conditions to allow or prevent these methods to be called
🐛 Fixes a bug that would leave an InventoryDisplay in a weird state when dropping an object mid-move
🐛 Fixes a minor typo in inventory that could cause a target equipment inventory not to be found
🐎 Improves event calls architecture
🛠 Requires Unity 2018.2.6 or more

1.1

The Override

December 2018

🚀 Adds an overridable method to determine whether an object is usable or equippable
🚀 Adds custom editors for extended item editors
🚀 Adds a method to explicitely destroy an item
🚀 Adds an option for easy setup of IsEquippable and IsUsable
🚀 Updates the way events are triggered
🚀 Inventories can now be edited in bulk
🐎 Improves item editor's property exclusion
📦 Moves the MoreMountains menu under Tools
📦 Updates MMTools to their latest version
🛠 Requires Unity 2018.2.6 or more

1.0

The First Item

July 2017

✨ Inventory Management
✨ Inventory Display
✨ Items creation
✨ Item actions : pick, drop, equip, unequip, use, move, swap
✨ PixelRogue demo scenes
✨ Minimal demo scenes
✨ Stackable items
✨ Equipment inventories
✨ Intra and extra inventory navigation
✨ Save and load inventories
✨ Automatic inventory display setup
✨ Hotbars
✨ Selection Marker
✨ Inventory Sounds
✨ Corgi Engine integration
🛠 Requires Unity 2017.0.1 or more
Constantly updated assets
All More Mountains assets receive regular updates, which always include bug fixes for all known issues at the time of the update, compatibility with new Unity releases, improvements on existing features, and of course new features. All these updates, for all these assets, have always been free. You can see how often updates get released in the graph below.
What's next?
I'm always working on new features. Here's a roadmap for the incoming ones. Warning : I won't be held responsible if some of these items never make it to a release. Buy this asset (and anything, really) for what's been released, not what's possibly coming. (Still, I'll probably be doing most of these.)
Coming next (in no particular order) :
More tutorials and use cases
More inventory skins